Business Customers
Do you want our hot sauces to your restaurant?
Our products for business customers
In addition to our own restaurants, we act as a reseller of hot sauces and hot wings by-products in Finland.
Siipiweikot started in 1993 and our addictive hot sauces have spread from Tampere all over Finland. Our goal is that everybody should have the opportunity to enjoy the delicious hot wings. If you want to be a part of the hot wing boom contact us.
The Powered by Siipiweikot Sauces concept is currently in use in several restaurants all around Finland. We offer our own experience in making and selling hot wings to all our customers. You will receive hot sauces, by-products and our material bank from us to support your hot wing sales.
If you are interested in our products, you can contact us directly or leave us a message.
Siipiweikot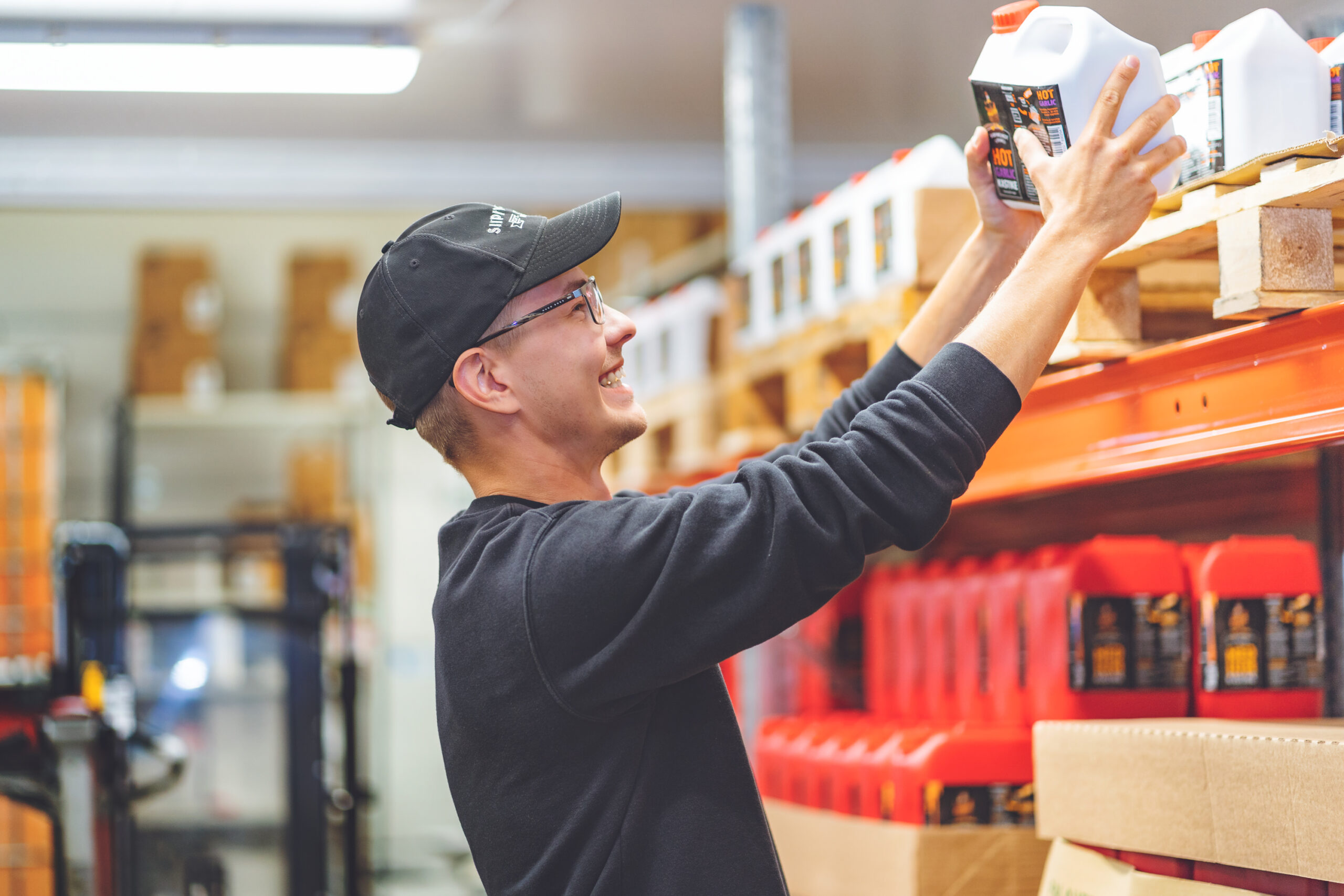 Siipiweikot Warehouse
If you're interested you can contact us:
B2B Account Manager:

Tuomas Hyysalo
+358 50 523 3380
tuomas.hyysalo@siipiweikot.fi
Warehouse:
Juurakkotie 7 D 2
37150 Nokia
Open hours Mon – Thu 8-16, Fri 8-12
+358 44 236 1885
Contact Us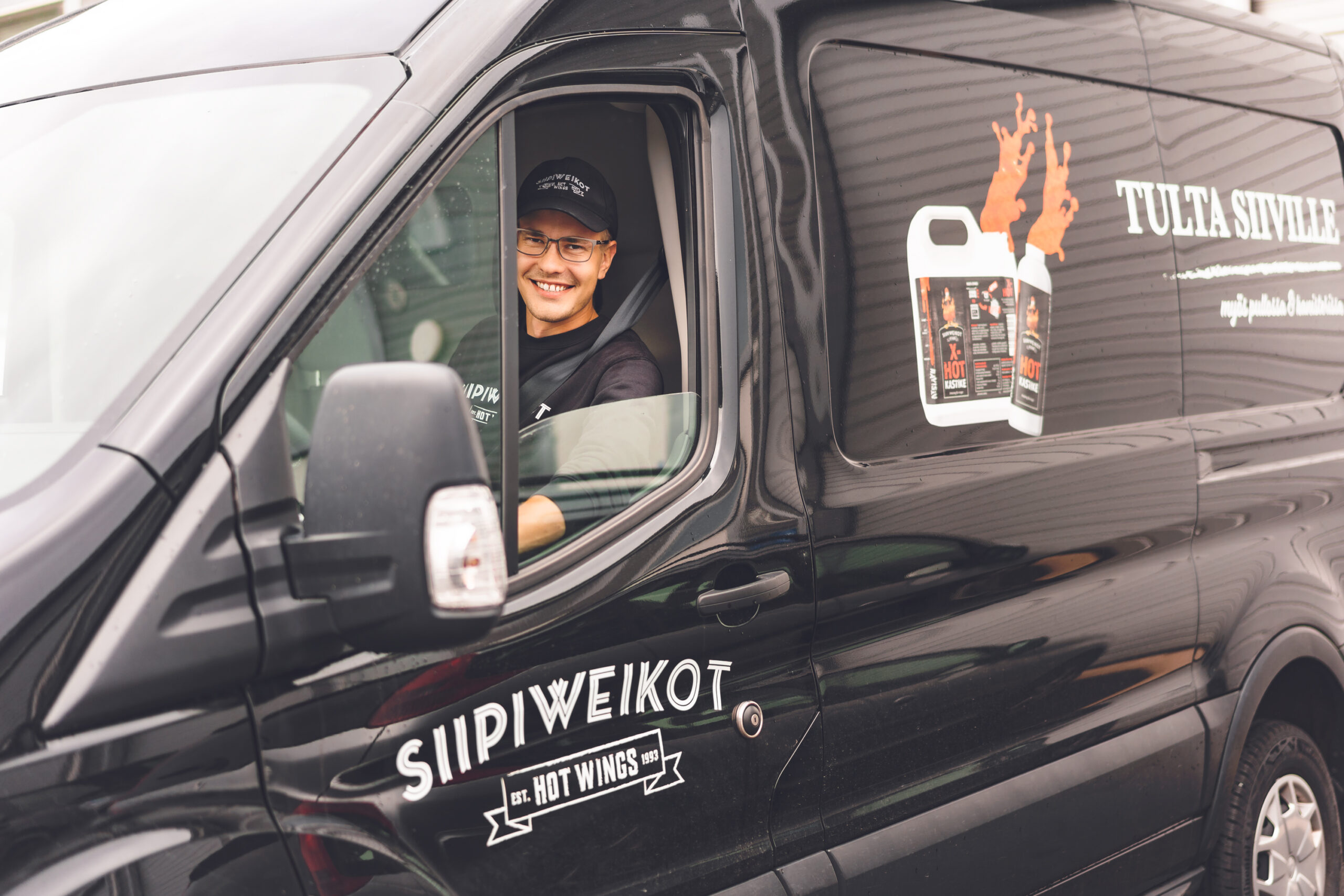 Siipiweikot Hot Sauces
There are three key elements when making great hot wings; wing, hot sauce, blue cheese dip. We offer Siipiweikot Hot Sauces and Siipiweikot Blue Cheese dip to our business customers. Curretly over 300 restaurants all around Finland serves hot wings with Siipiweikot hot sauces. You´ll also find our 0,5 litres Siipiweikot Hot Sauces from over 1000 grocery stores around the Finland.  If you want our hot sauces to your restaurant or hear more please contact us.
Contact Us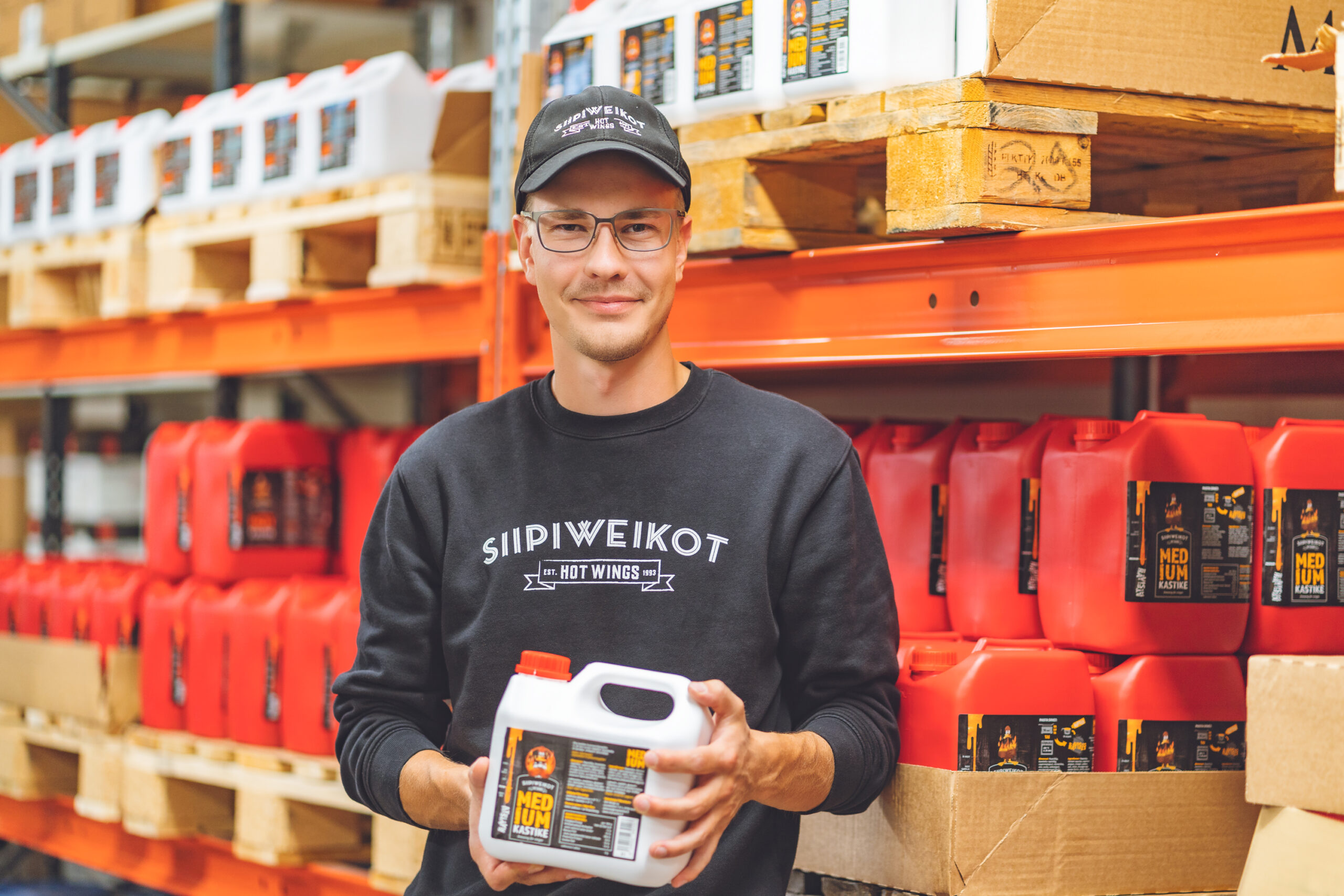 Siipiweikot Hot Sauces
Medium

The Medium sauce is the most popular Siipiweikot sauce. It has a rich, soft flavour with a delicate tinge of vinegar. In terms of heat, Medium is a mild sauce even though it has been rumoured to get some eyes watering. Originally, the Medium sauce was designed for wings, but it can also be used on almost everything, from salads to shepherd's pie – try it yourself. The only limitation is your imagination!

Hot

The Hot sauce has a rich, soft flavour with a stronger vinegar taste. Heat-wise, Hot also packs more punch than Medium. When Medium starts to feel like a slice of cheese on your daily sandwich, maybe it's time to cross over to Hot. The Hot sauce cannot be described as burning hot but it still has its fair share of heat. The orange colour of Siipiweikot actually originates from the colour of the Hot sauce. The Hot sauce has also found its fans. The saying "Once you go Hot there's no turning back" is an apt description of Hot lovers. It's really not an option to move downwards on the scale! Either you stick to this level of heat or move on to the next peak if you're not faint of heart!

Hot Garlic

In terms of flavour, heat and consistency, Hot Garlic is very close to the Hot sauce but it also has a touch of something else. The keenest noses and mouths can detect a gentle garlic scent and flavour in the sauce. In addition to this, the overall flavour slightly differs from Hot. If you're not a fan of the vinegary flavour of wing sauces, we recommend you try the Hot Garlic and Sweet BBQ sauces. The Hot Garlic sauce has a subtle vinegar flavour but also plenty of other things. Hot Garlic is a fairly recent addition to our sauce selection.

X-Hot

This is the sauce that started it all in 1993. Siipiweikot's X-Hot has been used in Finland for almost three decades. It is punchy with vinegar and salt flavours. On the other hand, these two ingredients cut through the fattiness of the wings and add flavour.

XX-Hot

If the X-Hot is too dilute and the Kamikaze too hot then here is a great alternative to the heat, namely the XX-Hot is created just for you!

Kamikaze

Kamikaze, the wind of the gods, brings with it a guaranteed burn. This is not the hottest poultry sauce in the world. Kamikaze's deception is when the heat recedes.
Usein kysyttyä
We don´t sell wings to our business customers. We advice you to get wings from wholesale. We can give you advices what wings we recommend.
Siipiweikot is a protected trademark. As a Hot Wings Oy business customer you will have access to Siipiweikko's material bank. The material bank has e.g. logos, advertisements and photos for our business customers yo be used in your own marketing. You may also place advertisements for content found in the material bank, as long as they comply with the Siipiweikot name and the material bank's Terms of Use.
We don´t have minimum order quantity. For smaller orders, however, we will add a freight charge to the invoice. For larger orders, shipping is free. We want companies of all sizes to benefit from our products and you can sell wings as part of your other restaurant business.
Our hot sauces has long expiration dates, at least 6 months. We also recommend the use of an ice wing – in which case possible loss/deficit is very unlikely.
No. You can start with one of few. We recommend listening to the customers. Medium is the most popular of our hot sauces but each hot sauce has its own loyal supporters. Sauces are available from 0.5l bottles to 10l canisters, so for example Kamikaze should be reserved relatively less than others.
Yes it fits! We have heard that our customers use our sauces in oatmeal, rye bread and peppercorns. In your restaurant you can make use of the sauce e.g. on top of the pizza, between a burger and as a salad dressing, with chicken and cauliflower wings. The sky is really just the limit, because our sauces are really suitable for many!
The sauce should not be heated at any point. Bring the sauce to room temperature for about 30 minutes before use. Add the hot sauce to the hot wings last just before serving. The wings heat the hot sauce enough.
Contact Us
Do you want Siipiweikot hot sauces for your own restaurant or do you have any other questions from us?
Put us a contact request / message in the box next to it or you can also contact us directly if you wish:
Customer Manager

Tuomas Hyysalo
050 523 3380
tuomas.hyysalo@siipiweikot.fi